The ancient city (Photo by Chen Yingjie)
  Quanzhou, known as "Zayton" in ancient times and located in the southeast coast of China, is a city that bears impressive maritime memories and has a history of more than 1,300 years. In the 10th-14th centuries, Quanzhou rose up as the largest port in the East that saw prosperous maritime trade and numerous merchants and diverse cultures from across the world. Diversity, openness and inclusiveness represent characteristic traditions of Quanzhou and offer aspirations for hardworking, pioneering, ambitious Quanzhou people to create glorious past and present and strive for a better future.
The ancient city and Jinjiang River basin (Photo by Chen Yingjie)
  Quanzhou's terrain features the sea in the southeast and mountainous inland in the northwest. Its urban area is set in a coastal plain, with Qingyuan Mountain in the north, Jinjiang River in the south and Luoyang River in the northeast. The two rivers converge at the southeast of the city and eventually run into Quanzhou Bay. The offshore area of Quanzhou, located at the border of the East China Sea and the South China Sea, features a winding shoreline totaling more than 500 kilometers. Several natural deep-water harbors along the coast of Quanzhou provide good conditions for maritime transportation. Quanzhou has 14 administrative districts and counties under its jurisdiction. By the end of 2019, the resident population of Quanzhou reached 8.74 million (excluding Jinmen). The land area of the city is 11,015 square kilometers (including Jinmen) and the sea area is 11,360 square kilometers with a 541-kilometer shoreline, 14 large and small bays and 207 islands.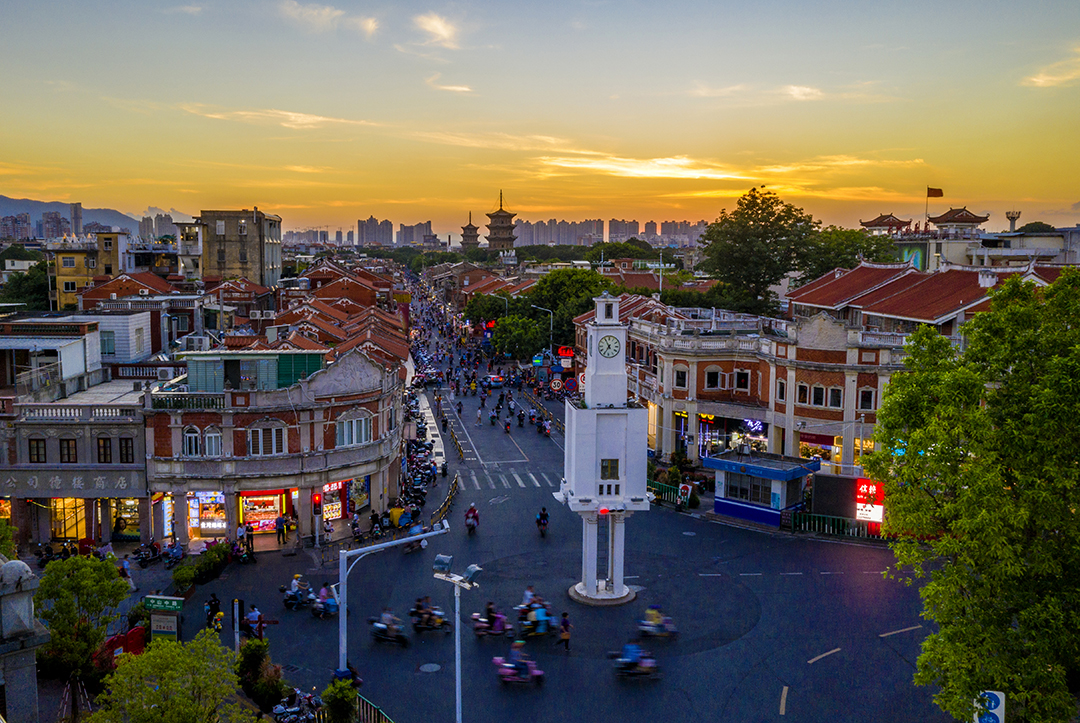 Bell Tower of east-west direction (Photo by Chen Yingjie)
  Quanzhou's ocean-oriented tradition that features openness and integration gives rise to lively, colorful and dynamic scenarios in the city's social and cultural fronts. Diverse folk beliefs, customs and lifestyles, elements of traditional craftsmanship, expressions of culture and arts, and native cuisines have survived from the long course of history. Quanzhou has a total of 505 intangible cultural heritage under various levels of protection, including four of UNESCO level, namely, Nanyin (south music of Fujian), Chinese shadow puppetry, watertight-bulkhead technology of Chinese junks, and Chinese traditional architectural craftsmanship for timber-framed structures. Quanzhou is also one of the first 24 Historically and Culturally Famous Cities proclaimed by the State Council of China and has 926 sites and monuments under various levels of protection, including 44 State Priority Protected Sites.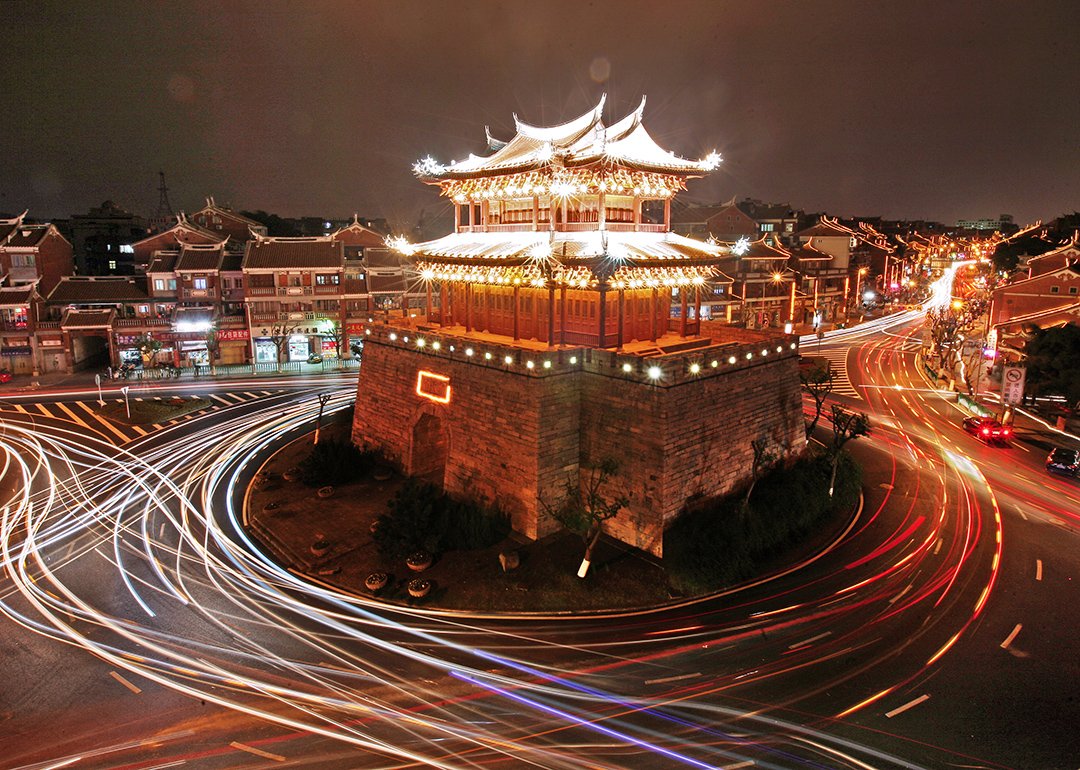 Chaotian Gate Tower at night (Photo by Chen Qituo)
  Quanzhou has long been a prosperous commercial and industrial city. Comparing to other cities of Fujian province, its GDP has remained on the top place for 21 consecutive years, with the figure standing at 994.66 billion RMB yuan in 2019. It has seven industrial clusters whose output value exceeds 100 billion RMB yuan, including textile and garment, footwear, petrochemical, machinery and equipment, building materials and home furniture & decoration, food and beverage, and handicraft industries. Traditional handicraft industries such as porcelain-making, incense-making and stone carving and traditional agricultural products such as oolong tea, sugarcane, longan and litchi, introduced to ancient Quanzhou Port through maritime trade activities, are still prospering today.

Coast of Jinjiang River——Quanzhou's Mother River (Photo by Chen Yingjie)
  The thousand-year maritime trade and Minnan culture are the root and soul of Quanzhou City. Quanzhou has been taking it as its responsibility to explore and make good use of its cultural treasure, to let the cultural relics speak, inherit the historical culture vein, and retain the city's memory. Quanzhou is a famous hometown of overseas Chinese in China and the main ancestral home of Han ethnic people in Taiwan. Chinese expatriates of Quanzhou origin across the world total up to more than 7.2 million. They devote themselves to the construction of their ancestral home, such as investing and setting up factories, donating for education, charity, and public welfare. A large number of contributive and outstanding overseas Chinese have emerged, which has become an important driving force for the economic, cultural and social development of Quanzhou, and has become the link and bridge between Quanzhou and the world.